Mount Manaslu, also known as Kampunge is the eighth highest mountain in the world. It is located in the west-central part of Nepal. Manaslu in Sanskrit means "manasa" meaning "Intellect" or "soul". The peak elevates to a height of 8,163 m.
Toshio Imanishi and Gyaltsen Norbu Sherpa were the first to successfully ascend this peak on 9 May 1956.
FOLLOW OUR LIVE TRACKING DURING THE EXPEDITION share.garmin.com/SofieLenaerts
This winter we arrive in Kathmandu 1 jan 2022 were we have the goal to climb Mount Manaslu without supplemental oxygen by the normal route, establishing 3 or 4 high camps. To brake trail and set lines in place where is dangerous to fall into crevasses, we will work together with the other climbers Alex Txikon , Iñaki Alvarez from Spain, Oswald Rodrigo Pereira of Poland and the Nepalese sherpa's from Sevensummittrek. Simone Moro from Italy will also be there for his third attempt on Manaslu in winter. Karl Gabl, who has helped us many times during expeditions will also help us with the weather forecast during this winter expe🙏
"We're very experienced and confident that we can handle conditions until 6,500m," Txikon said. "But after you cross 7,000m, high winds and extremely low temperatures make things really difficult…Hopefully, this time will be different."
While you wouldn't expect climbing an 8000-meter peak in winter to be a popular activity, there have been around 180 expeditions during the cruelest season to do just that but only 25 were successful. Polish alpinist, Voytek Kurtyka, termed it; the art of suffering. Here are some winter statistics ;
•First Winter Expedition – 1974, Lhotse, Polish team
•First Peak Climbed – Everest (1980)
•Last Peak Climbed – K2 (2021)
•Most Climbed Peak – Cho Oyu (6)
•Most Attempted Peak – Nanga Parbat (30+)
•Country with Most Successful Summits – Poland
•Country with Most First Summits – Poland
•Most Successful Individual Climbers – Simone Moro (Italy – 4 – All First Ascents), Jerzy Kukuczka (Poland – 4 – Three First Ascents and One Second Ascent)
•Time Taken to Complete All Fourteen 8000ers -40 years, 11 months
•Female Summiteers – Marianne Chapuisat and Elisabeth Revol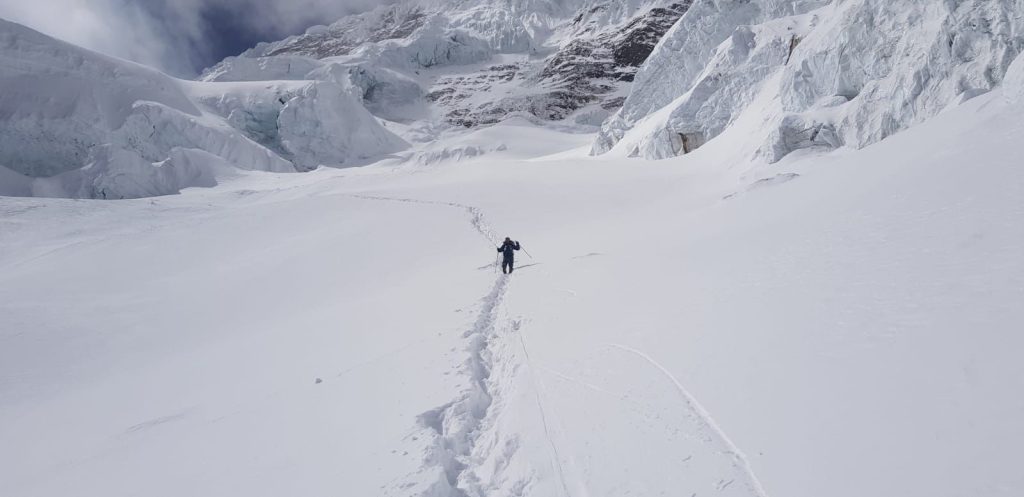 Winter Ascent: where the climate of winter is a factor in increasing the difficulty grade of the route (higher elevation, polar latitudes). In the Northern Hemisphere conventional winter ascents are made between 21/12 and 21/03 and are not related to the conditions. In the Himalayan area, although Nepal and China's winter season permits start on 1dec but the conventional winter ascents begin on 21 dec
In the past, several Belgian winter expeditions have taken place to an 8000er peak
1982 Everest (1p)
1984 Everest (1p)
1988 Everest & Lhotse (15p) with Polish team
1989 Cho oyu (4p)
1990 Makalu (1p) with Polish team
2020 K2 (1p) International team
but all expeditions were without summit.
As from 2021 Manaslu 8163m has 2 summits. All Belgians climbed the fore-summit
2011 Jean-Luc Fohal ( no O2 )
2011 Edmund Anton ( no O2 )
2012 Wim Smets
2018 Wimjan Peeters
2019 Rudi Bollaert (picture)
2019 Stefan Wolput
2021 Damien Francois
What about us?
Over the past 15 years we have had the opportunity to evolve in expedition climbing:
Gasherbrum I and II in 2013 (Stef) without oxygen
Attempt on Makalu in 2015 without oxygen
Khan Tengri north side in 2010 (Stef) and 2015 (Sofie – Solo) and Peak Lenin 2019
Everest north side in 2007 (Stef) and 2016 (Sofie) with oxygen and Sherpa support
Attempt on Lhotse (2017) and ascent of fore-summit Broad Peak (2021) autonomous, just the two of us (no use of supplemental oxygen or personal support)
We try in this way to motivate people and stimulate their personal growth. Let's hope that we can inspire our fellow alpinists to seek more adventure in the high mountains.